Welcome to our Youth Summer Program at Hillsborough Community College, Where It's Fun to Learn!
---
>> Our Youth Summer Program for 2022 has concluded. Make sure to follow our social media pages to learn when the Verizon Innovative Learning (VIL) STEM Achievers Program returns. <<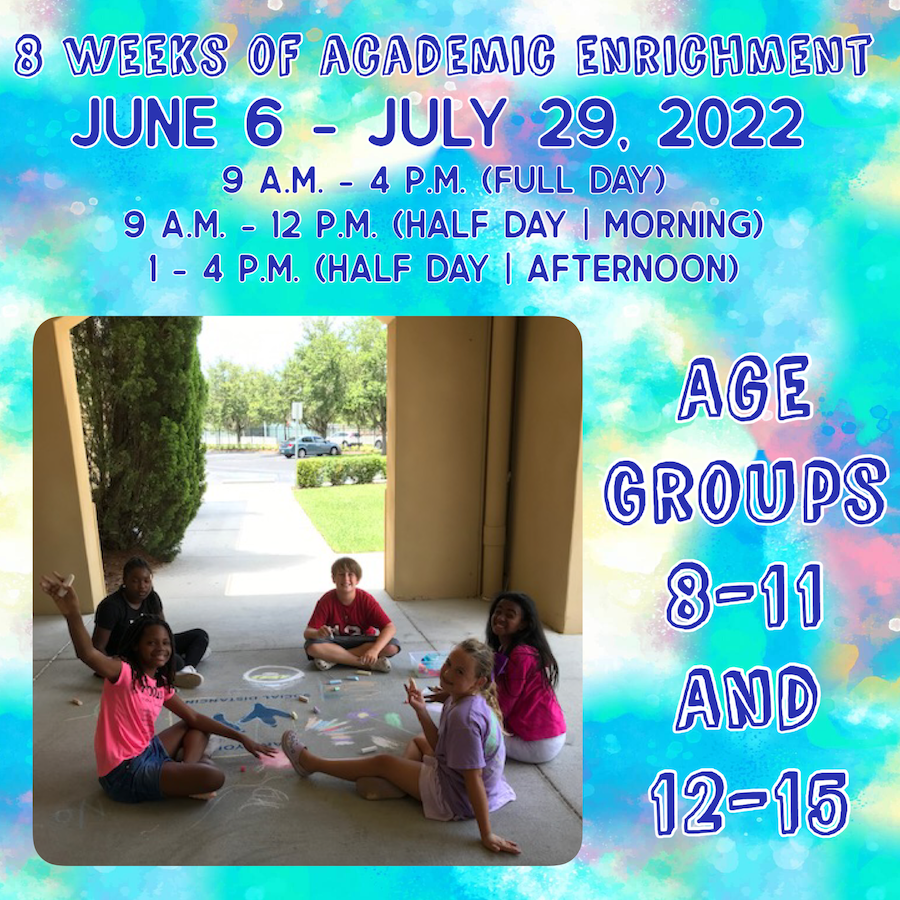 Thank you for considering Kids' College at Hillsborough Community College (HCC). Our Youth Summer Program provides opportunities for children to experience quality programs, learn new skills, make meaningful friendships, and rediscover themselves outside of their usual routines.
At HCC, we create a safe environment that instills confidence and creates wonderful memories. We strive for excellence because we know that a positive summer program experience can be life-changing. We have the pleasure of working with dedicated, professional, energetic staff members who are enthusiastic about making children's and teens' experiences exciting and educational.
There are a lot of summer programs in the Tampa Bay area, but HCC Kids' College is dedicated to empowering today's youth intellectually, physically, and creatively for tomorrow's success. Kids' College at HCC is the best and where it's fun to learn!
Call us at 813.259.6010 or email us at kidscollege@hccfl.edu for more information.
Click here to download Kids' College Youth Summer Program Flyer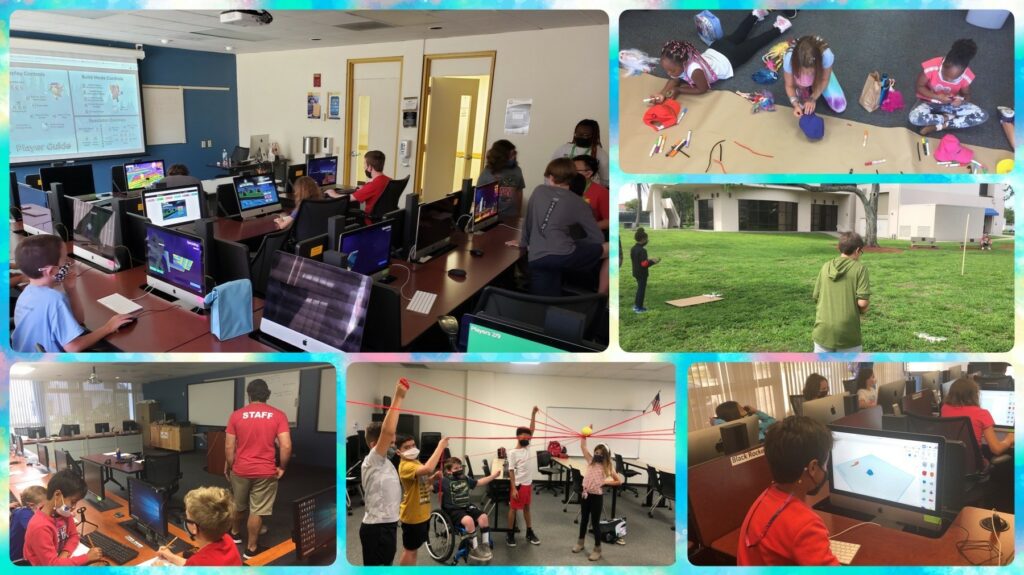 JOIN OUR FUN TEAM! Hiring Seasonal Part-Time Assistants and Seasonal Camp Leaders. Apply today at https://jobs.hccfl.edu.

INTERESTED IN VOLUNTEERING? Email us at kidscollege@hccfl.edu for volunteer opportunities.
>> REGISTRATION IS NOW CLOSED. <<
This summer some kids and teens will enter the Hawks Nest for the very first time! Hawk News Brief's Adam Langerman (@SomeNewWork) interviewed Ronkel Williams with @ICCE1 to gain insight on all the great things @HCCFL Kids' College has to offer. pic.twitter.com/3MIg3tGjFd

— HCC HAWK TV (@yborhawktalk) May 4, 2022
---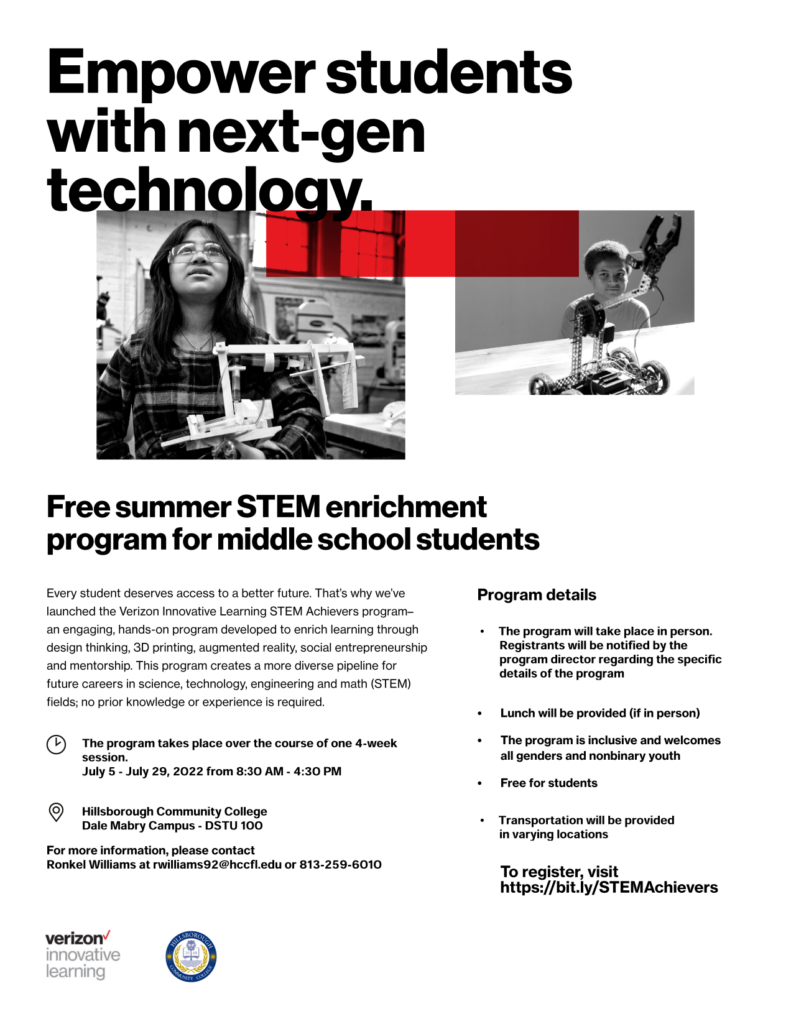 THE 2022 VERIZON INNOVATIVE LEARNING (VIL) STEM ACHIEVERS PROGRAM HAS CONCLUDED.
We are excited to announce that for the 5th year, Hillsborough Community College, in partnership with the National Association for Community College Entrepreneurship (NACCE), will join the education initiative of the Verizon Foundation, Verizon Innovative Learning STEM Achievers to introduce middle school students through Hillsborough County, to science, technology, engineering, and math (STEM) skills.  
Kicking off this summer with a four-week intensive learning experience starting July 5 – July 29, 2022, where 150 students from local middle schools across Hillsborough County will attend courses at HCC Dale Mabry Campus in Immersive Media (AR/VR), Smart Solutions (coding), Digital Product Innovations (3D design & printing), Artificial Intelligence & Robotics, and Design Thinking (entrepreneurship) Principles.
Verizon Innovative Learning gives free technology, free access, and innovative curricula to students impacted by the digital divide to help them realize a brighter future.
To learn more and to register your middle schooler, please visit Verizon Innovative Learning STEM Achievers website.
---
Tell your friends about
Kids' College
|
HCC