---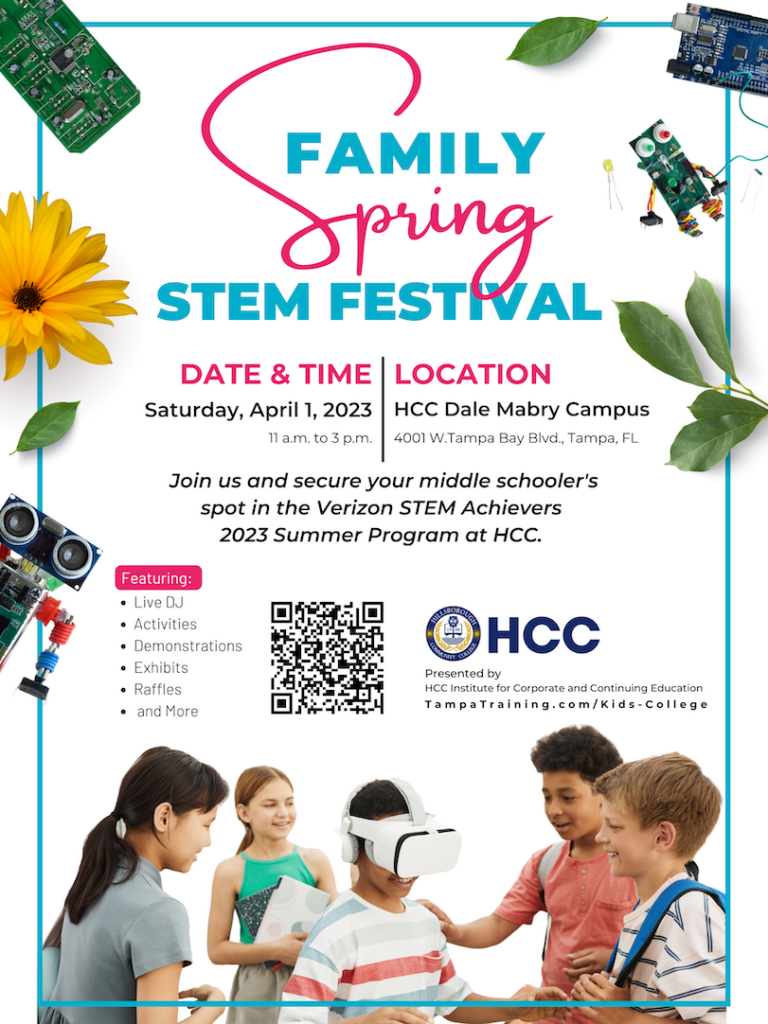 Family Spring STEM Festival
Join us and secure a spot for your middle schooler in the 2023 Summer VIL STEM Achievers Program at our upcoming Family Spring STEM Festival on Saturday, April 1, 2023, from 11a.m. to 3 p.m. at HCC Dale Mabry Campus.
There will be fun-filled STEM activities, demonstrations, exhibits, raffles, live DJ, and more!
Register for our event and receive a free food ticket for each family member. ⤵️
https://www.eventbrite.com/e/543271970087
To enroll and/or learn more about the program, visit Verizon Innovative Learning STEM Achievers website.
Verizon Innovative Learning (VIL) gives free technology, free access, and innovative curricula to students impacted by the digital divide to help them realize a brighter future.

---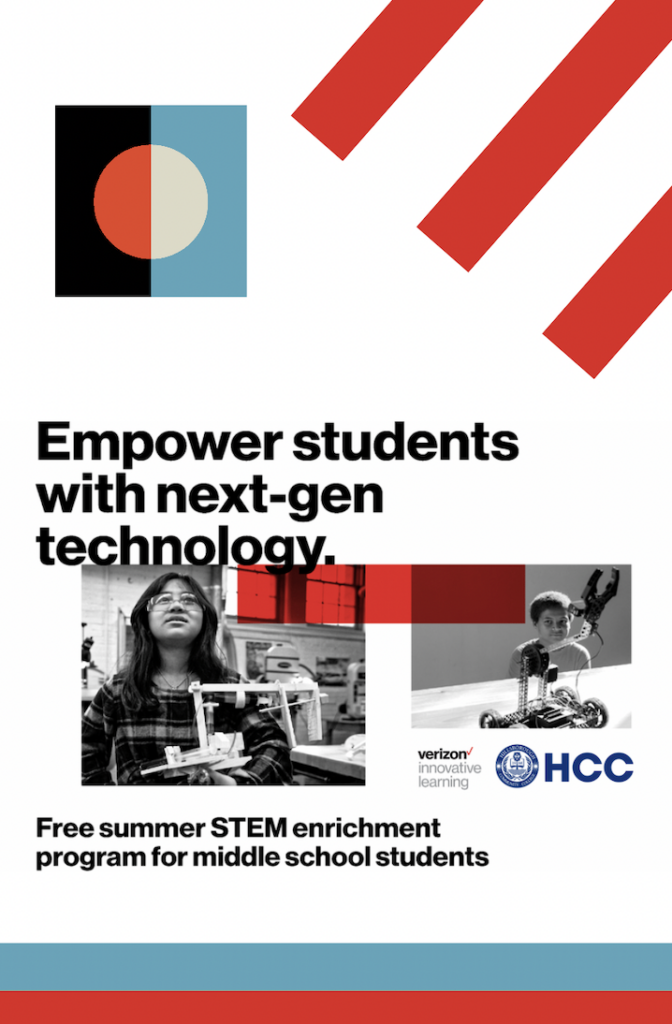 Free Summer STEM Enrichment Program for Middle School Students
The 2023 Verizon STEM Achievers summer program registration is now open! It will be held at HCC's Dale Mabry Campus with two sessions: June 5 to 23 (Boys) and June 26 to July 14 (Girls). Students must be in or entering middle school during the upcoming 2023/2024 school year to participate.
STEM Achiever Registration – Summer 2023
If you have any questions, please feel free to Ronkel Williams at rwilliams92@hccfl.edu or 813.259.6010.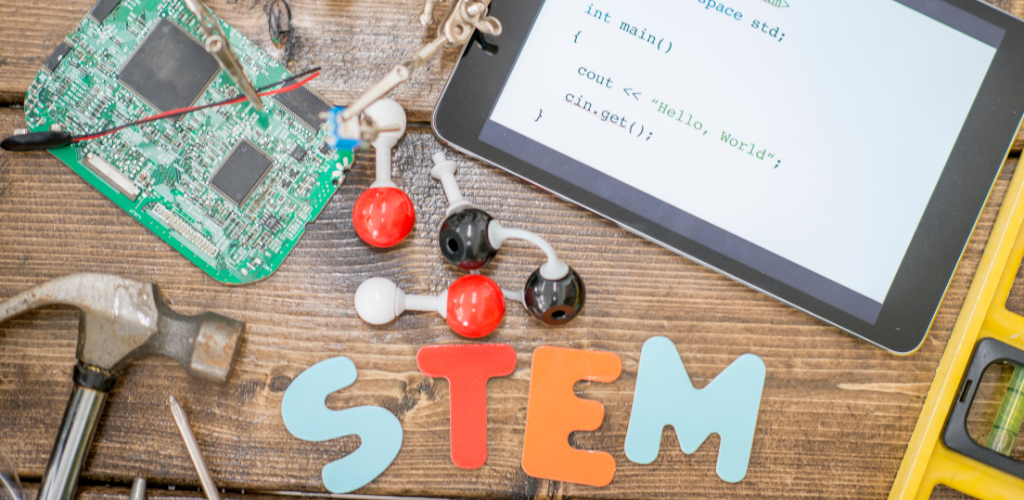 ---
Summer 2022 Verizon STEM Achievers Program Poster and Project Competition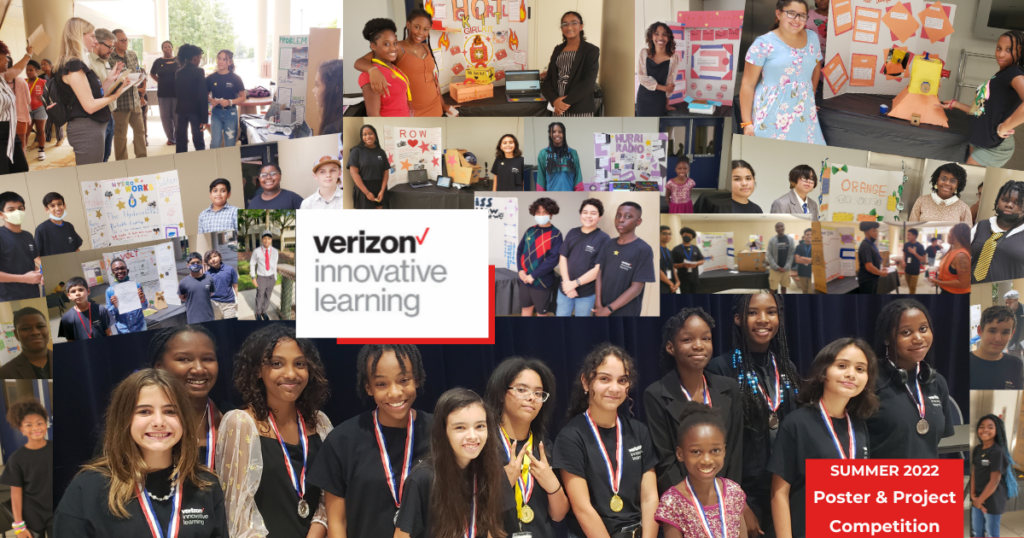 .
From July 4 to 29, Hillsborough Community College (HCC) – Institute for Corporate and Continuing Education (ICCE) alongside the National Association of Community College Entrepreneurship coordinated the Verizon Innovative Learning STEM Achievers Program, at HCC Dale Mabry Campus, funded by the Verizon Foundation. The science, technology, engineering, and math (STEM) program introduced approximately 150 middle school students to Design Thinking and STEM, with a little entrepreneurial mindset for good measure! They worked with 3D Printing & Modeling, Augmented and Virtual Reality, Artificial Intelligence & Robotics, Circuits & Electronics, and Team Building.
On Friday, July 29, 2022, students had an opportunity to display and pitch their projects at the end-of-camp showcase. The projects reflected problems they identified, ideated, and prototyped using what they learned in camp. This year's project theme was linked to Hurricane disasters, a real-life problem that impacts Florida families. As part of the display, the students also pitched their ideas to a panel of judges. A wholehearted congratulations to the 1st, 2nd, and 3rd place winning teams!
---
Tell your friends about
Kids' College
|
HCC