Military
We support our service members, veterans, and their families at Hillsborough Community College's (HCC) Institute for Corporate and Continued Education (ICCE). HCC is an approved VA school offering workforce courses online or in-person in healthcare, business, and information technology. Below is a list of classes we offer approved by the VA.
Allied Health – Certified Medical Assistant, Certified Nursing Assistant, EKG Technician, Patient Care Technician, and Phlebotomy Technician
Business – Customer Service and Sales, Human Resources, Payroll, and Food Protection Manager
Information Technology – Certified Cloud Professional, CompTIA A+, CompTIA Network+, and CompTIA Security+
Our partner, CareerSource Tampa Bay, is committed to providing the tools necessary for our transitioning service members, veterans, and their spouses gain and sustain careers in high-demand positions in Information Technology and Aviation sectors. Below is a list of classes approved by the Get There Faster program at ICCE.
Information Technology – Certified Cloud Professional, CompTIA A+, CompTIA Network+, CompTIA Security+, Java 8SE (OCAJ) Certification, JavaScript Programming, Microsoft Azure Fundamentals Certification, Microsoft Data Analyst Associate Certification, MTA Python Programming Certification, and PCAP Python Programming Certification
Trades – Aircraft Electronics Technician (AET) Certification Program
Allied Health – Certified Medical Assistant (CMA), Certified Nursing Assistant (CNA), EKG Technician (CET)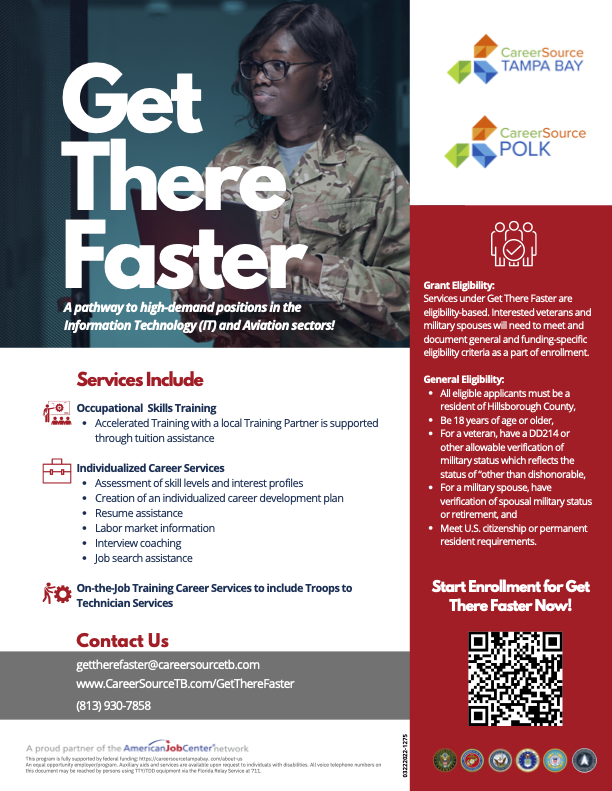 Also, check out our Financial Assistance page for other scholarships available to service members, veterans, and their dependents. These scholarships may cover other courses, not covered by the VA GI Bill. If you are an HCC Alumni/Faculty/Staff/Student, we offer a 10% discount. And ICCE offers flexible pre-payment plans for course fees of $1,000 or more.
If you have any additional questions, please call us at 813.259.6010 or email us at icce@hccfl.edu. Thank you for your service.
Other Military Community Resources