Hillsborough County Medical Certification Scholarship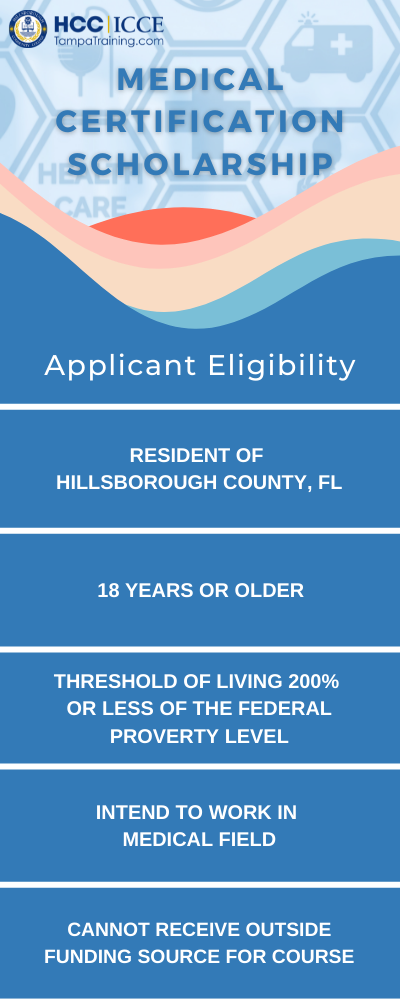 Thank you for your interest. We are no longer accepting applications. We have approved and notified scholarship recipients via email. We still have funds available for the Open Door Scholarship. To learn more about eligibility, list of approved courses, and how to apply, visit TampaTraining.com/Open-Door. OR if you are interested in becoming a CNA, visit TampaTraining.com/Sunshine-Health-Works.
In partnership with the Hillsborough County Board of County Commissioners, HCC is offering the Medical Certification Scholarship Program. The purpose of the scholarship is to provide educational opportunities in entry-level medical disciplines that result in nationally accredited certifications and job placement. Funding for this program is limited. Applicant must be a resident of Hillsborough County, FL, 18 years or older, have a threshold of living 200% or less of the federal level, intend to work in the medical field, and cannot receive outside funding for the course. Also, a background check is required for clinical rotation.
The medical certification scholarship program covers 100% of the approved courses' costs. Funds from the program must be used to cover the cost of tuition, fees, examination, books, and materials.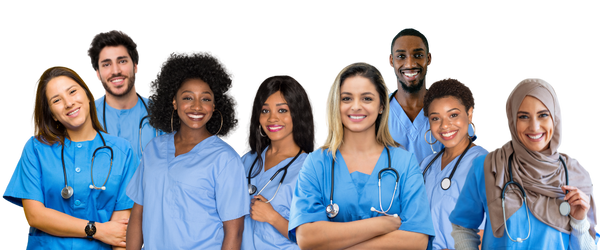 – Only one scholarship may be approved per individual.

– Job placement assistance will be provided to all successful students, however, HCC cannot guarantee full-time employment.

– Complete one application only. If adjustments are needed to your existing application, please call 813.259.6010 or email
ICCE@hccfl.edu.
Steps To Apply:
Complete the Application (Thank you for your interest. We are no longer accepting applications. We have notified approved scholarship recipients via email.)
Receive Approval from HCC
Submit Hillsborough County Application
Receive Approval from Hillsborough County
Receive Award Notification and Registration Instructions
Register for the Approved Course
Courses fill up quickly, so don't delay.
Healthcare Approved Courses
Certified Clinical Medical Assistant (Only Start Date Available: November 9, 2022)
Enter into the world of healthcare today by performing functions related to the physician's clinical responsibilities in the outpatient/private medical office. Learn and perform methods of preparing patients for examination and treatment, routine laboratory procedures, and specimen collection including blood collection (phlebotomy), running live electrocardiographs (EKGs), and recognizing heart rhythms. Gain hands-on experience with critical procedures and concepts in phlebotomy, EKG, pharmacology, professional workplace behavior, ethics, and the legal aspects of healthcare. You will also complete an introduction to medical terminology, healthcare etiquette, and healthcare customer service to stand apart from others in a competitive job market.
Upon completion of the course, you will be eligible to take the CMA, Phlebotomy, and EKG Technician exams through National Healthcare Association (www.nhanow.com) receiving a total of 3 certifications! (Additional Phlebotomy, EKG, fees paid separately.)
Total Hours: 216
Course Link: Click Here
Advising Support Contact: AlliedHealthICCE@hccfl.edu
Patient Care Technician (Only Start Date Available: October 27, 2022)
The healthcare industry is currently undergoing major changes in the manner in which patient care is provided. This restructuring has resulted in the introduction of a new category of healthcare workers trained to perform a variety of patient care services. In this course, you will learn technical skills necessary to service complex patient personal care issues including rehabilitation services, basic bedside care, collection of laboratory specimens, phlebotomy, and EKGs primarily geared for both the inpatient and outpatient setting.
As a Patient Care Technician (PCT), you will work alongside doctors, nurses, and other healthcare providers to oversee and monitor patients. This training will provide you with the basic medical knowledge and hands-on skills necessary to perform or obtain technical diagnostic testing and perform direct patient care. Many hospitals may require that PCTs also have a Certified Nursing Assistant (CNA) license. This course meets the requirements to also take the CNA exam to meet this requirement. Visit the Florida Board of Nursing Website for information about becoming a CNA. Upon completion of the course, you will be eligible to take the PCT, Phlebotomy, and EKG Technician exams through National Healthcare Association (www.nhanow.com), and apply to the Board of Nursing to become a CNA. You could end up receiving a total of 4 certifications!
Total Hours: 250
Course Link: Click here
Advising Support Contact: AlliedHealthICCE@hccfl.edu
Phlebotomy/EKG Technician Combo (Only Start Date Available: November 9, 2022)
This course is designed to give you hands-on experience and skills needed for NHA national certification in just weeks through a combination of didactic hours and hands-on clinical training. You will perform, per NHA requirements, 30 live venipunctures and 10 capillary punctures in both lab and clinical settings and learn how to process lab specimens. The program also provides training for administering and reading EKGs including the anatomy and physiology and disease processes that affect the heart, medications, Holter monitoring, 12-lead EKG, analyzing EKG readings, and much more. You will perform at least 10 live EKGs per NHA requirements.
Background Check:
A level 2 background check will be conducted through Hillsborough Community College. Students with felonies, especially those related to child or elder abuse are not allowed to participate in the clinical rotation. Visit the Agency for Health Care Administration (AHCA) to see if you are eligible to work in healthcare if you have criminal a history. Persons with a criminal history may be able to obtain an exemption from AHCA to provide eligibility for employment in a healthcare setting.
Drug Screening:
Students are required to have a 10-panel drug screen. If the urine screen is positive, the student will receive a call from the medical review officer at the testing center asking you to provide documentation of prescriptive medication. If proper documentation cannot be provided, the failed drug screen will result in removal from the program with no refund. NOTE: Healthcare facilities will not allow students or employees to use marijuana, even with state medical approval for marijuana use. Any positive marijuana drug screen result, regardless of medical approval for use, will still result in removal from the program.
Physical Exam/Immunizations:
Students must get a medical physical exam including a 2-stage TB skin test and must provide proof that all immunizations are up to date including Influenza, Measles, Mumps, Rubella, Chickenpox, Hepatitis B, and TDAP. If the student has a medical issue that can affect their participation in the program, they should advise HCC immediately. We do not recommend taking classes that include phlebotomy/specimen collection and if you are pregnant, or plan on becoming pregnant due to exposure risk. Your physician must complete and sign the Students Health and Immunization Certification Forms. All exams, tests, and vaccines are required. Your healthcare provider will need to complete the required forms available to you after you register.
Helpful hints:
Your High School should have your immunization records if you have graduated within the past 3 years.
Your primary care doctor may have copies of your immunizations.
Physicals and immunizations are free in many health insurance plans including Medicaid and may be completed with your primary care doctor.
Please Note: This course includes mandatory clinical hours until 30 venipuncture and 10 capillary sticks are completed. Clinicals are typically held all day at a hospital towards the end of the course. Access to transportation and a flexible schedule is needed.
Total Hours: 144
Course Link: Click here
Advising Support Contact: AlliedHealthICCE@hccfl.edu
PROGRAM FLYER