Open Door Scholarship Program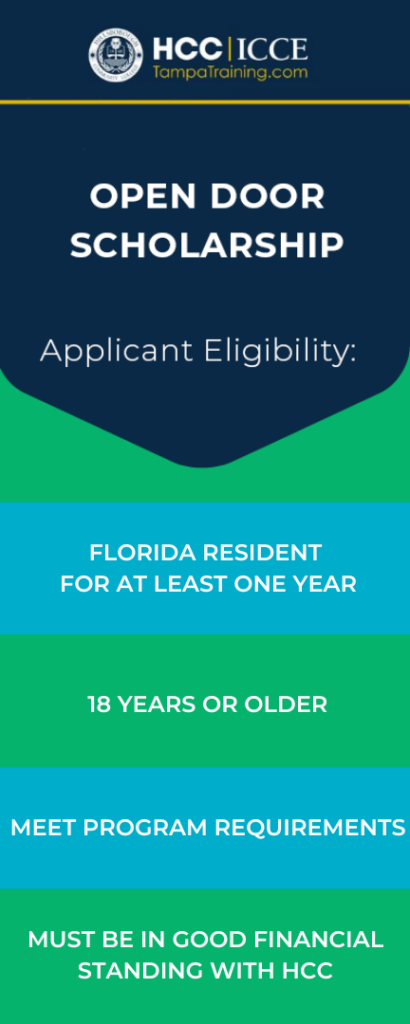 The Open Door Scholarship Program 2023-2024, funded by the Florida Department of Education, is designed to support students completing short-term and technical education credentialing courses. The goal of the program is for participants to successfully attain a workforce certificate in high-demand fields. This addresses and closes the gap between the skills needed by workers in the state and the skills of the available workforce in the state. The Open Door Scholarship Program covers 100% of the cost associated with the approved courses listed below. Funds from the program must be used to cover the cost of tuition, fees, examination, books, and materials.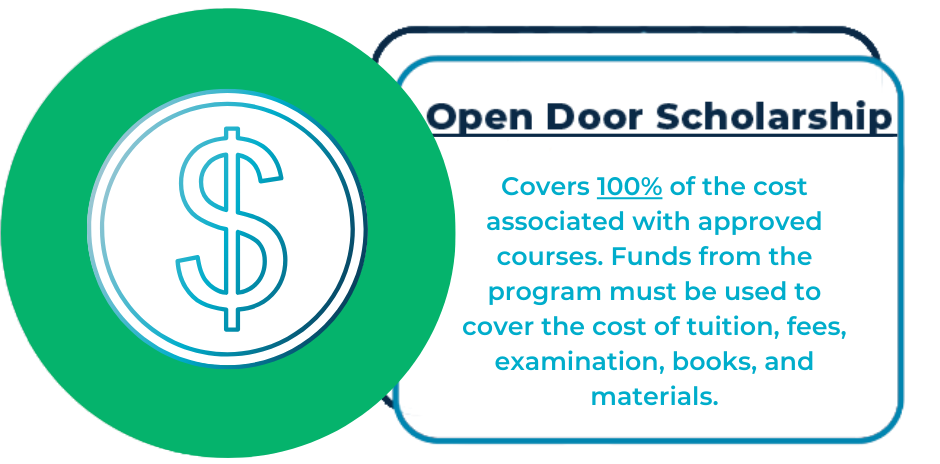 Please only complete the application if you meet the minimum eligibility criteria. Applicant must be a Florida resident for at least one year, 18 years or older, meet course specific requirements, and must be in good financial standing with HCC.
COURSES MUST BEGIN BY JUNE 30, 2024
✔️ COMPLETE ONE APPLICATION ONLY. If adjustments are needed to your existing application, please call 813.259.6010 or email
ICCE@hccfl.edu.

✔️ Only one scholarship may be approved per individual.

✔️ Registration and payment (if applicable) must be completed within 2 business days of award notification.

✔️ HCC cannot guarantee employment as a result of this training.
Courses fill up quickly, so don't delay.
Steps To Apply:
Complete the Application (SUBMIT ONE APPLICATION)
Receive and Complete Assessment from HCC
Receive Approval from HCC (within 5 to 7 Business Days)
Receive Award Notification and Registration Instructions
Register for the Approved Course
Courses Approved
Healthcare
Certified Clinical Medical Assistant
Master skills of a medical assistant by learning methods of preparing patients for examination and treatment, running electrocardiographs (EKGs), and performing routine laboratory procedures including phlebotomy (blood draw). Gain hands-on experience with critical procedures and concepts in collecting patient history and vital signs, phlebotomy, EKG, pharmacology, medical records, professional workplace behavior, ethics, and the legal aspects of healthcare. You will also complete an introduction to medical terminology, healthcare etiquette, and healthcare customer service to stand apart from others in a competitive job market.
Upon completion of the course, you will be eligible to take the CMA, Phlebotomy, and EKG technician exams through National Healthcare Upon completion of the course, students will be eligible to take the Medical Assistant, Phlebotomy, and EKG/Telemetry Technician certification exams through National Healthcareer Association (NHA) receiving up to three certifications!
Total Hours: 220+ (100 optional clinical hours)
Course Link: Click Here
Licensed Massage Therapist
Become a licensed massage therapist in less than 9 months! HCC ICCE's new 500-hour massage therapy program is approved by the Florida Board of Massage and meets all the training requirements to become a licensed massage therapist. Classes include:
Block 1
HES-8901 Basic Massage Theory and History
Block 2
HES-8900 Anatomy and Physiology
Block 3
HES-8903 Allied Modalities
HES-8906 Florida Laws and Rules
HES-8908 HIV/AIDs
HES 8909 Medical Errors
HES-8907 Professional Ethics
Block 4
HES-8902 Clinical Practicum and MBLWX Exam Prep
HES-8905 Theory and Practice of Hydro Therapy
HES-8904 Business Theory
Total Hours: 500
Course Link: Click here
Have questions about our Healthcare courses?
Contact our Allied Health Advisors/Program Coordinators at 813.259.6010, AlliedHealthICCE@hccfl.edu.
Information Technology
Certified Cloud Professional
Cloud technology is important for developing a career in today's computing landscape. Cloud computing is quickly capturing the technological domain with notable players such as Microsoft and Amazon Web Services (AWS) making huge strides. As a result, the demand for cloud professionals is also increasing considerably. There are thousands of open tech jobs in the Tampa Bay area alone. This course will prepare you to enter the exciting field of cloud computing. As a part of this course, you will have the opportunity to take three different cloud certifications CompTIA Cloud Essentials+, AWS Certified Cloud Practitioner, and MS Azure Fundamentals.
Total Hours: 96
Course Link: Click Here
This course is designed for entry-level individuals looking to start a new career in IT. This fundamental program begins with a brief introduction to PC basics; secondly, the instructor will focus on the conceptual and practical aspects of both CompTIA A+ 220-1101 and 220-1102 exam objectives, and lastly, the instructor will integrate the program with job readiness skills to prepare participants to seek or obtain employment and to keep their jobs once they are hired.
Total Hours: 108
Course Link: Click Here
Microsoft Data Analyst Associate Certification
This interactive online course with a Live instructor is designed to be delivered for entry level individuals looking to start a new career in Data Management. This program begins with an introduction to Data Science using Microsoft Applications like Excel, Access and Power BI. With more and more big data in today's workplace, it is more important than ever that most employees need to analyze, digest, and explain data in a manageable way to anyone who needs to understand their organization's complex information. Therefore, this program is designed for most employees that are tasked with developing and promoting data-driven business decision-making. It's no longer just for IT Specialists.
Microsoft Data Analyst Associate Certification | Exam Code PL-300 for more information visit Microsoft website: Exam PL-300: Microsoft Power BI Data Analyst – Learn | Microsoft Docs
Total Hours: 88
Course Link: Click Here
Have questions about our Information Technology courses?
Contact our IT Advisor/Program Coordinator – Elizabeth Steacker at 813.259.6508, ESteacker@hccfl.edu.
PROGRAM FLYERS
Open Door Scholarship 2023-2024 PDF Flyer
PRESS RELEASE
Open Door Scholarship 2023-2024 Press Release (Coming Soon)