Steps to Qualify:
Complete the online application at https://www.tampatraining.com/rcsp-form/
Complete online attestation (link will be sent to the email you provide on your application)
Receive Scholarship Award Letter (if approved)
Apply to a particular program or course (application requirements vary by program).
Attend class!
Once you submit both forms, you should hear back from us within 7 – 10 business days.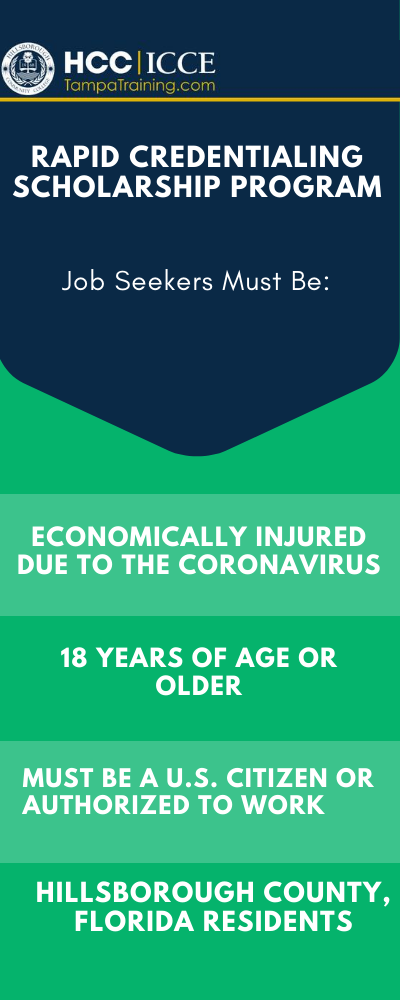 The impact of COVID-19 will lead many to seek training and employment in entirely different business sectors.
Hillsborough County's unemployment rate is 15%.
Hillsborough Community College is prepared to help mitigate the economic impact and facilitate training in new career pathways for those who seek them.
The Rapid Credentialing Scholarship Program has been designed to help rebuild Florida's economy. The program provides 100% scholarships (tuition, fees, books) in approved areas of study. The goal is for participants to leave with certifications in high demand fields that position them for higher wages.
Who Qualifies:
> Unemployed or
> Underemployed or
> Furloughed (or expected) and
> Residents of Hillsborough Co. and
> U.S. Citizens or Resident Aliens and
> 18+
Please note Hillsborough Community College cannot guarantee employment as a result of this training.
---
Eligible Courses and Programs
Automotive
Automotive Collision Repair & Refinishing Helper/Assistant (OCP A) and Non-Structural Damage Repair Technician (OCP C)
Automotive Service Assister (OCP A) and Automotive Beak System Technician (OCP F).
Business
Accounting Technology Operations
Accounting Technology Specialist
Business Operations
Business Specialist
Entrepreneurship and Innovation
Healthcare
Certified EKG Technician (CET)
Certified Medical Assistant
Certified Nursing Assistant (CNA)
Certified Phlebotomy Technician
Patient Care Technician
Information Technology
Certified Cloud Professional Certification Program
CompTIA A+ Help Desk Technician
CompTIA Network+
CompTIA Security+
Digital Media/Multimedia Instructional Technology
Digital Media/Multimedia Video Production
Help Desk Support Technician
Oracle Certified Associate (OCAJ) Java Programmer
Oracle Certified Database Administrator
Manufacturing & Engineering
Automation
Engineering Technology Support Specialist
Lean Manufacturing
Logistics and Transportation Specialist
Mechatronics & Robotics (PMMI Certs)
Public Safety
Fire Fighter I/II
Private Investigator Intern
Private Security Officer - 'State License D' Unarmed